The
Beautiful Belly Challenge
is a way for all of us to share our ideas about
real
beauty, and try to scrap the
junk
about "
you have to be skinny to be beautiful
" and all that. I've been working on it for a while, and although it's not the most organized plan in the world, it's going to be great, I can feel it! But guess what!
It's here! I've finally gotten everything together and I AM READY! I'm so excited to hear about your ideas of
beauty
, your struggles, your accomplishments, and everything in between. And a few of the best bloggers out there are going to be joining in too, so get ready for their posts, and don't worry- I'll keep you updated.
Anyway, as I am working diligently on my
very
special post for you (it's gunna be good, I promise!) I want you to be thinking about what you're going to write. And whenever you're ready, head on
OVER HERE
(or just click "The Beautiful Belly Challenge!" up at the top) and read the instructions.
Ladies.
GET EXCITED!
We're going to change some lives here! Well, or at least make people feel beautiful and loved. Please please please get involved, and if you have any questions, e-mail me or comment or whatever.
I love you,
beautiful people
!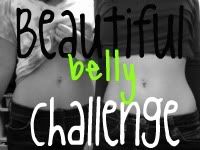 The official Beautiful Belly Challenge button!
That's mine and Kristen's beautiful bellies.